Lusitano. 26 FEV 2021
"EQUADOR WILL LEAVE AN IMPORTANT LEGACY FOR THE FUTURE OF THE BREED"
A few days before the latest issue of Revista Equitação hit the newsstands, where João Torrão and Equador MVL are highlighted in the cover, we spoke with the breeder and Director of Monte Velho (MVL), Diogo Lima Mayer Jr.
---
Tempo de Leitura: 16 min
In the headquarters of the Stud Farm, which also houses the Equo-resort, harmony reigns and it is barely noticeable that the Covid-19 pandemic is the theme of our lives. The masks on the face of those we come across, dealing with animals, remind us that here too, reality had to change and adapt.
Waiting for us is Diogo Lima Mayer Jr, who has been the helmsman of the Equador project, on this path since João Torrão made his Grand Prix debut, to the international stages, with his eyes set on the Tokyo Olympic Games.
Monte Velho Stud-Farm was born by the hand of Diogo's father in 1994, from a group of five Alter Real mares, which were first crossed with the stallion Xaquiro. Following years of trophies in Model and gaits contests, Diogo convinced his father that functionality should be the main focus of their breeding. Several winning horses have left Monte Velho to the Dressage arenas, and they are currently the leading Lusitano breeding program for the World Breeding Federation for Sport Horses (WBFSH), where the Lusitano breed is ranked on the 6th place.
Equador MVL (Quo Vadis SS x Que Há MVL) is the "star of the house", holding the title of National Dressage Champion, with João Torrão - the rider who has worked in the stud farm for several years - and the current Grand Prix record holders for Portugal and for the Lusitano breed (77.348% in GP, ​​79.042% in GPS and 83.875% in GPFS).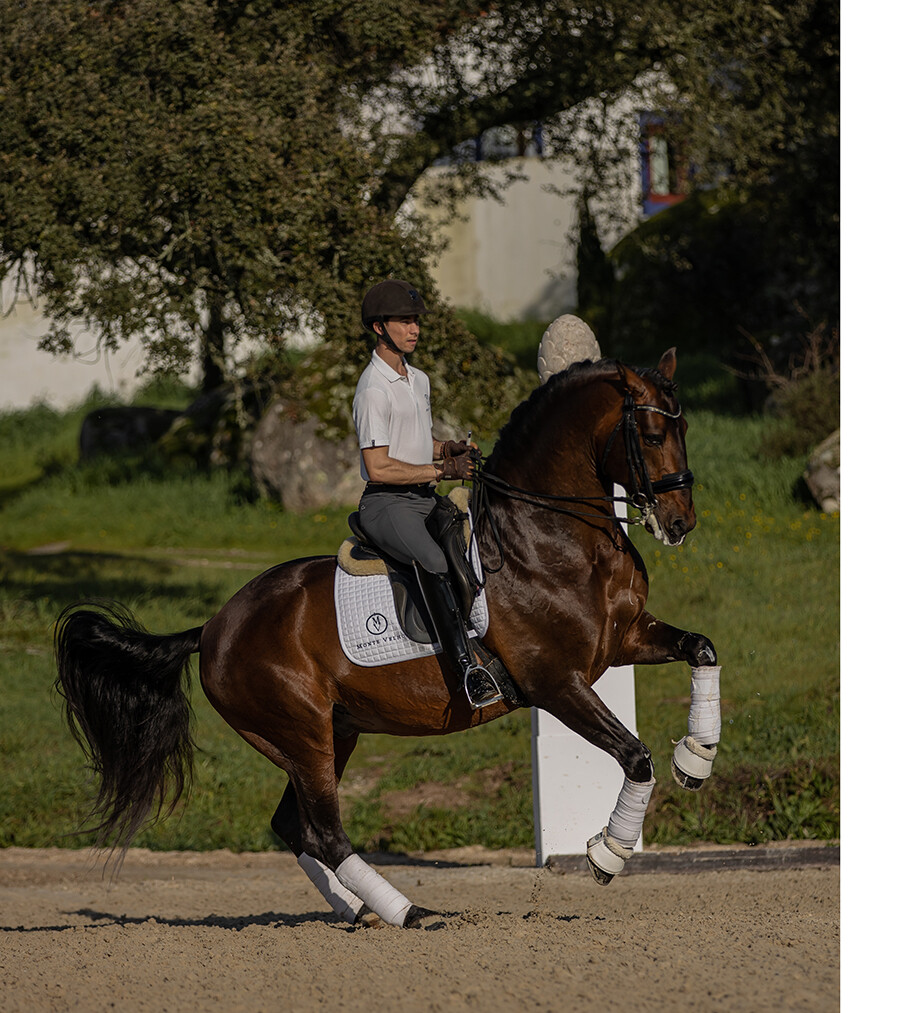 With 33 descendants registered in the Lusitano studbook, several other renowned breeders have chosen him as a father over the years, such as Dr. Pedro Ferraz da Costa, Companhia das Lezírias, José Filipe Guerreiro dos Santos, Henrique Abecassis, among others. In 2021, his offspring will strongly grow, with foals to be born at iconic breeders, such as Vasco Francisco Freire (Dressage Plus), Coudelaria Arsénio Cordeiro, Coudelaria Torres Vaz Freire, Coudelaria Veiga, etc.
When asked how he evaluates Equador's career as a stallion, Diogo Lima Mayer Jr., Director of the Stud, says that "Equador will leave a very important legacy for the future of our breed, marking its offspring with four fundamental qualities for Dressage: power, balance, «ability to suffer» and rideability. These are common factors that I already identify in his offspring, and that definitely made Equador reach and stand out in the Grand Prix. I believe Equador will not be the type of stallion to produce those beautiful «flashy» foals at birth and "super movers" for FEI young horses shows, but rather a very competitive stallion for the «league of truth»: The Grand Prix."
And what are these innovations that Equador is bringing to the Lusitano breed? "In my opinion, the main innovation is his incredible canter capacity. His carrying power, the easiness on extending and shortening his strides, the direction of movement, and his ability to ground cover without losing the quality of the canter, which derives a lot from his strength, lead international top judges to give him marks of 9 and even 10 in canter exercises. On top of that, the enormous expression in the execution of this exercises, which reflects the Lusitano breed pattern.
Over the past month, Equador has been focused in breeding duties and taking a well-deserved vacation, before starting training again with the goal to attend the FEI Dressage Nations Cup, which will take place in Alter Stud-Farn in April."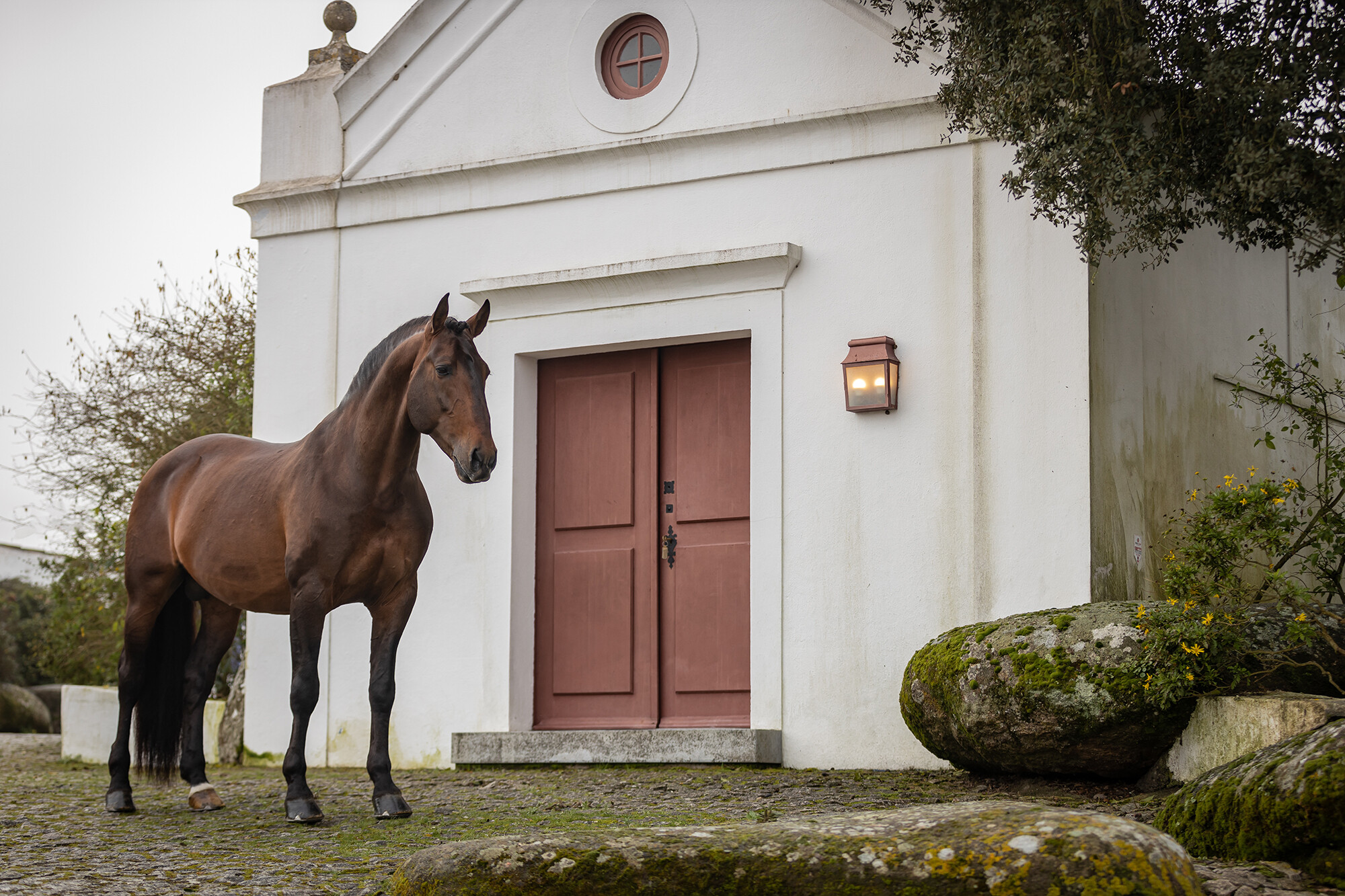 Starry Universe
But there is more sparkle in this universe. "There has been an effort from Monte Velho, to endow João with a set of horses that, in addition to Equador, can guarantee his future and the future of the Stud, as we do not want our brand and competition plan to stick to a single horse", explains Diogo Lima Mayer Jr.
"As the leader of this project, I have an enormous pressure every year to breed quality and competitive foals, which can ensure succession. Worldwide Breeding is evolving very quickly, not only in Portugal, and the challenge for breeders is, in my opinion, increasing, for more complete horses being produced, thus making the rider's job easier.
We are often asked what our mission as breeders is and, in fact, I have this enormous advantage of having a team around me with highly qualified people, who make my job of selection easier, because of the information they give me and the monitoring of the evolution of the horses. But I say that my job as a breeder is to simplify the job of the rider, meaning, to try to breed horses each time with a better balance and easier to teach".
Currently, the stud farm has a competition squad of five horses, four of which are home bred: Equador MVL, Maestro MVL, Lufada MVL, Giraldo MVL and Lírio.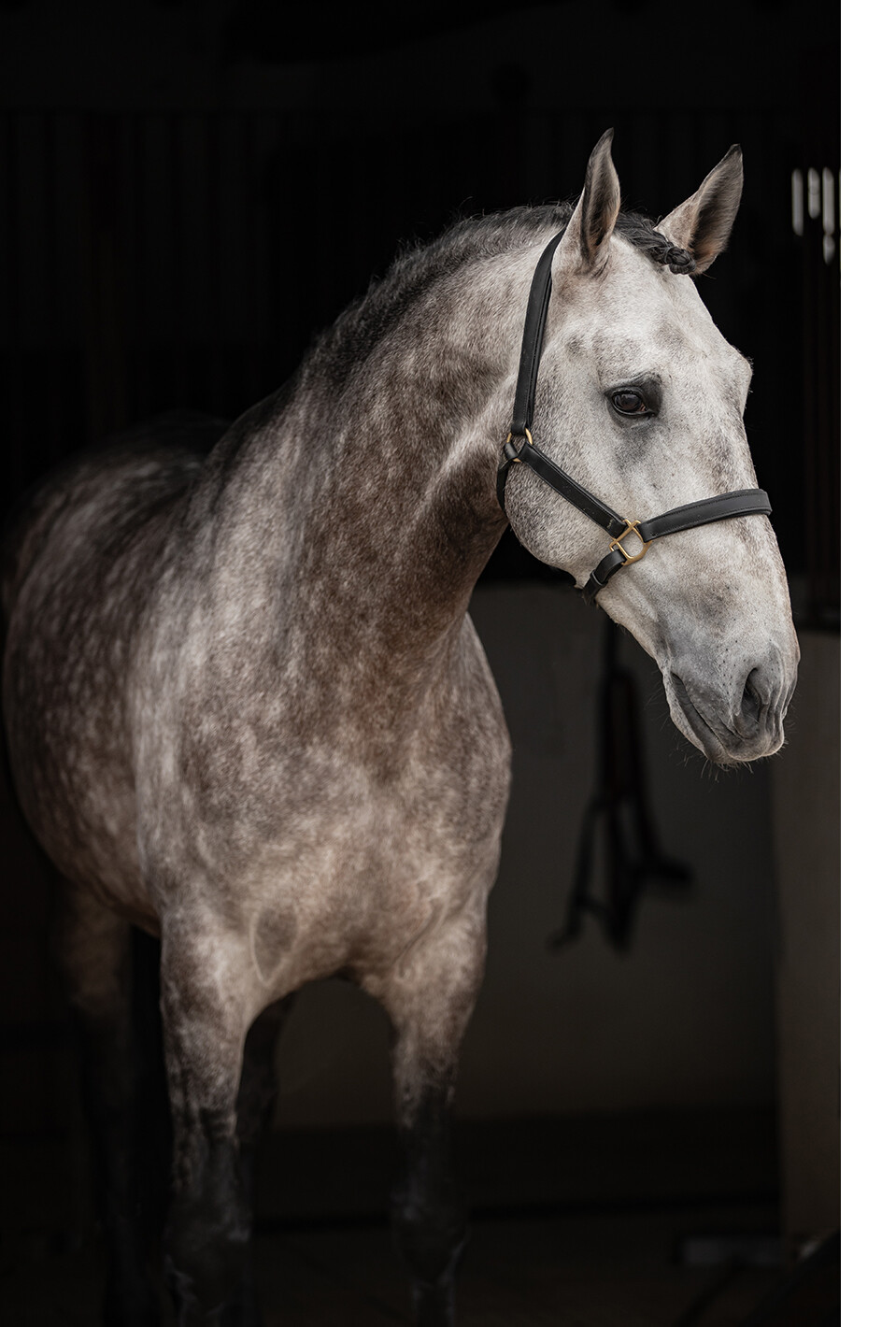 Maestro MVL is his first stallion, son of Equador, born in 2016, the result of crossing him with Chiquinha MVL (by Quixote MVL), also a mare from the MVL breeding program.
"It is probably the most complete horse we have ever bred", says Diogo Lima Mayer Jr, continuing: "I see many similarities with Equador, especially in terms of behaviour and character. It looks like a bulletproof horse to me. He is a sufferer, a very "rustic" horse, willing to work and quite complete. He has three very good gaits and a lot of power, maybe even more than his father."
Despite being only 5 years-old, Maestro MVL caught on early and, in fact, not always for the best reasons. "Since he was born, he has always been huge. At 2 years old I was even worried because the horse was so big and ugly that I didn't know what was going to get out of there!", recalls Diogo. "We were very eager to know what Equador produces as a father and when we started breaking him, in the beginning, to be honest, expectations were not very high. The horse was «a gangly youth»... But, as soon as João started to ride him and the horse started to get round, we were completely surrendered. Nowadays he is a horse on which we place enormous hopes for the future because he has everything that is important: he has a lot of presence, he's a sufferer and very complete. I would say that there is potentially a new Equador there, even if the father has raised the bar high and we will see if he is up to it."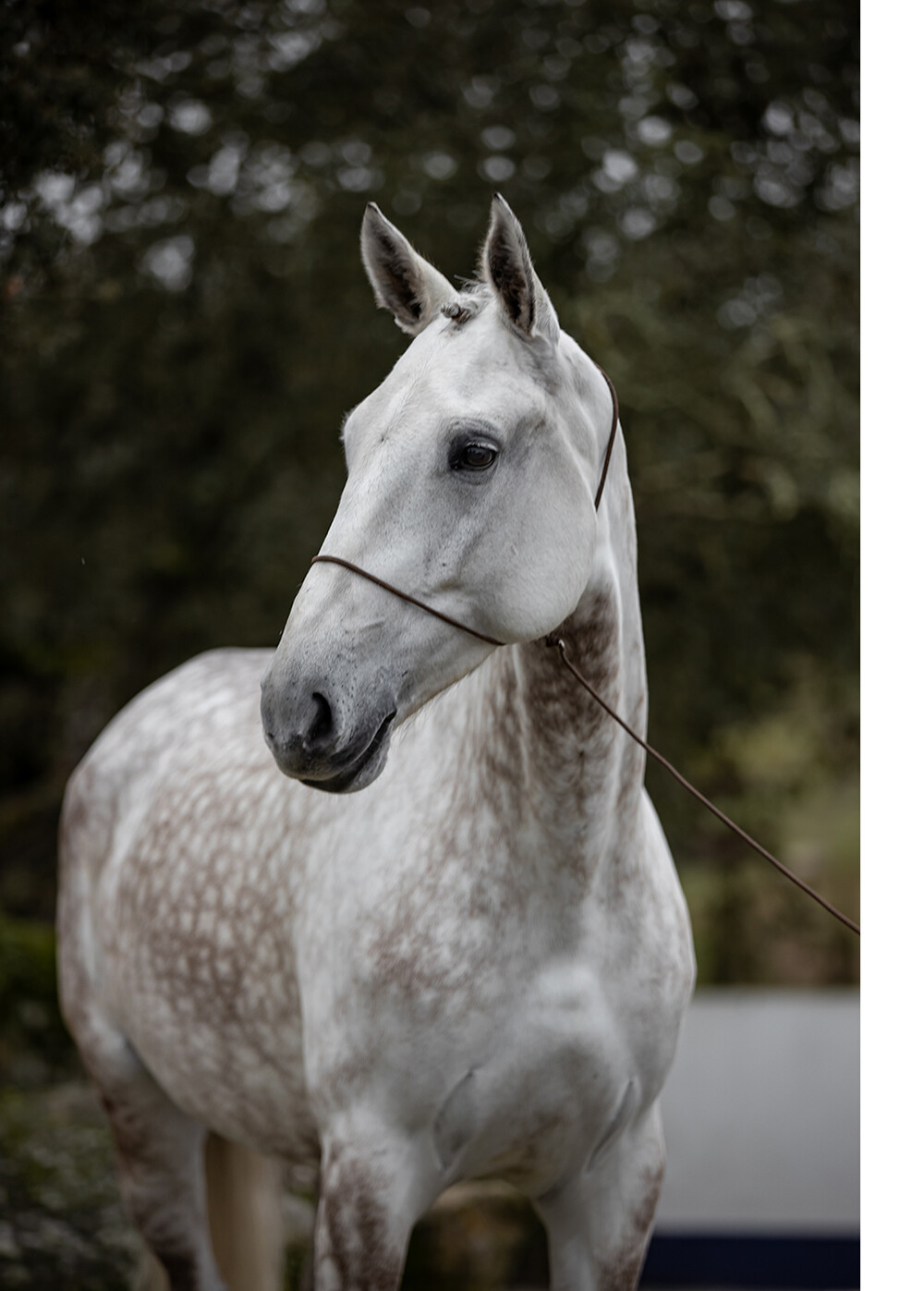 Maestro's sister is Lufada MVL (Franquelin MVL x Chiquinha MVL), a 6-year-old mare with whom João Torrão has already competed with, with good results and in which Diogo sees "a lot of potential". However, for the Director of Monte Velho, it is necessary to consider that "many times mares have disadvantages in relation to horses, as they are not so consistent. It is necessary to understand their character well, as they are not always as eager to work as the stallions, who can be more like "swiss watches". Mares are more unpredictable. This mare, in particular, is an outstanding one, genius, but she has to be taken in a very calm way, without rushing and without skipping stages."
The long-term vision has been one of the trademarks of Monte Velho, for the breeder, when we talk about new horses, it is crucial not to hurry-up.
"The Lusitano should not necessarily be competitive on young horses' classes and I believe that going too fast at these ages is, in my opinion, counterproductive for the development of the horse to the GP."
Diogo gives an example of what is done in other breeds: "The horses that stand out in FEI tests for young horses, either do not reach the GP, or «break», because they were «pulled» in such a way, so early, that afterwards they cannot stand the GP. I give you the example of Carl Hester, who has never participated in a World Championship for Young Horses. Charlotte Dujardin herself was about to participate several times and Carl never let it happen because the training system and the philosophy of building the horses is totally oriented towards the GP.
I think when horses show potential on young stages, it is important to get them some experience with outings, even to learn about their behaviours, but to prepare a season only for young horse's tests in which they have to be pushing at such a young age and at such an early stage of their development, in my opinion, it is negative, and it is not the path I want to follow in Monte Velho.
Some owners have a need to demand results in the very short term and I am deeply convinced that this will jeopardize the horses' future. I would love Monte Velho to be a "GP factory. This obviously requires a long-term vision, as my goal is to repeat the model that we achieved with Equador, with our young horses."
And talking about the Grand Prix, almost debuting is 10-year-old Giraldo MVL (Rubi AR x Vexada MVL), who is expected to show in the Big Tour this year.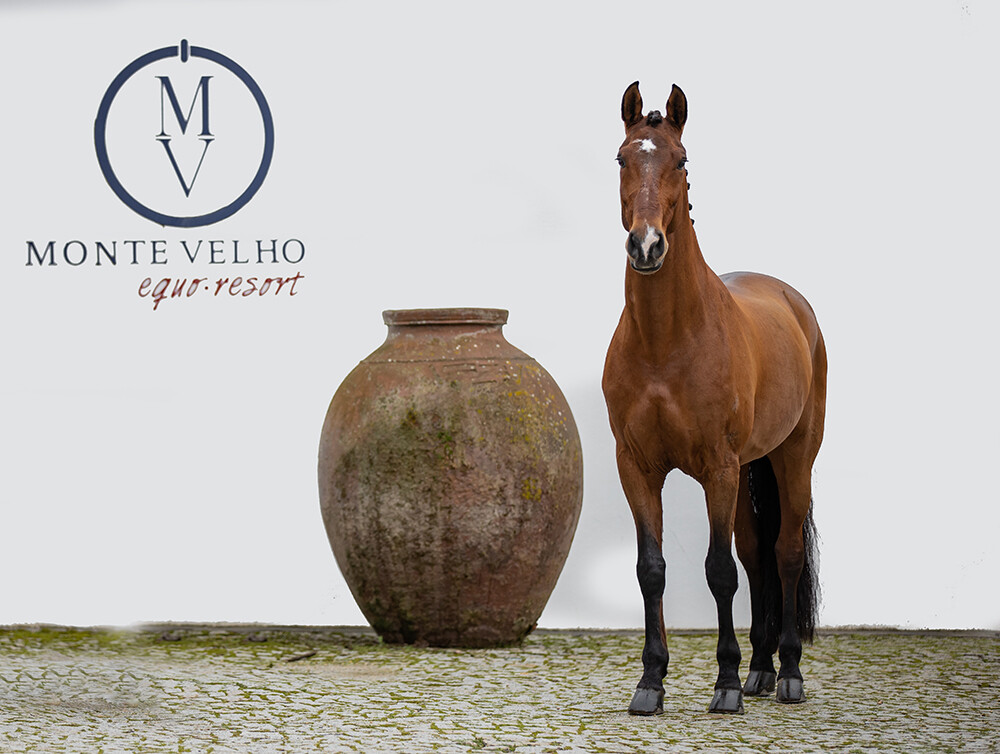 "Giraldo has naturally three very good gaits and a «trickier» personality. Maybe he is not as generous as Equador, but I think the connection that João got with him in a short period of time is extraordinary". Giraldo MVL has already passed through the riders Vasco Mira Godinho and Coralie Baldrey (coach of João Torrão).
"We thought it made sense to have this stallion with João, even for him to understand what it is like to ride a horse with a balance and difficulties that Equador did not show to him. I think Giraldo is definitely making João a better rider. I believe he will be ready to do GP this year and it is a plan B for João, to have another horse at this level, similar to what happens with the elite international riders, who have 2/3/4/5 horses."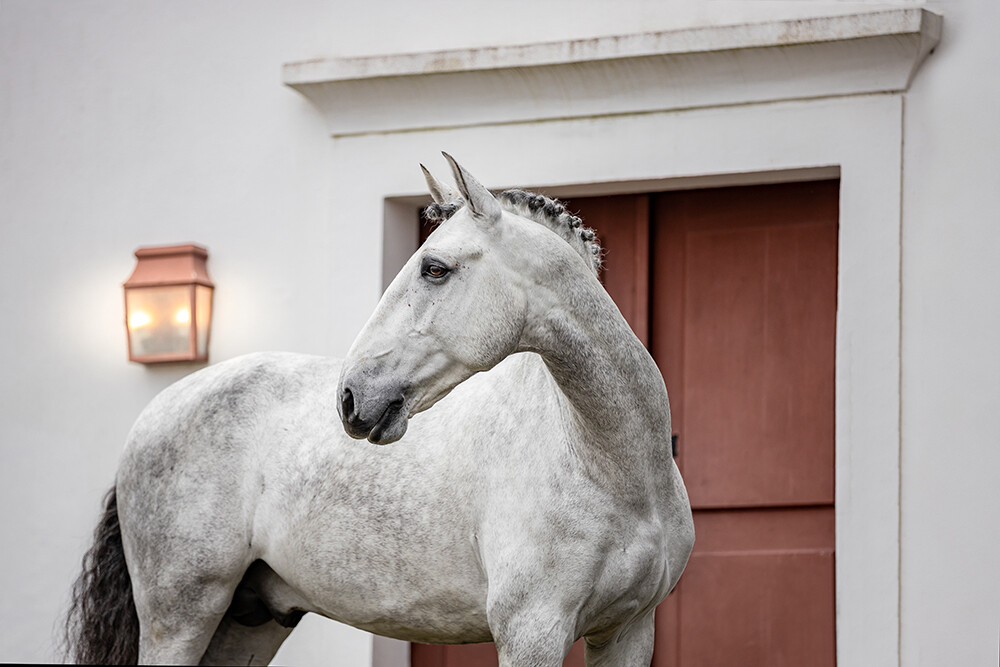 Integrating João's competition squad is also Lírio (Zeus do Lis x Quira), a 5-year-old stallion, owned by João since he was 3 y.o, and which was sold to Monte Velho.
"When we bought him, it wasn't for the purpose of competition, but to be a 'schoolmaster' at the Equo-Resort. We gave João the challenge to teach him for the future and, in fact, the horse is showing so much potential that at this moment we understand that he should be directed to competition. It is a project to create and develop", reveals Diogo.
Knowing how to wait

The main driver of João Torrão and Equador's sporting career, Diogo Lima Mayer Jr says that this project has been a "huge learning" for him too, because "I had never experienced a horse at this level and I try to learn daily, understand what the best people do and try to integrate into our team and help João achieve better and better results".
All competitive choices have been considered carefully, and for Diogo this is one of the keys to success, as well as teamwork.
"I think in a Dressage Team it's very important to have the role of the owner, who coordinates the entire team. In some way, Equador's project is different from the ones that exist in Portugal, where it is usually the rider who makes all decisions regarding the horse. I do not mean to say that João does not make decisions, that he does, but they are decisions made as a team. Fortunately, it has always been possible to find a common ground, and I think the secret is really the work of the team."
The management of the horse's sporting calendar "is crucial", especially because "since this is such a subjective sport, it is very important to prepare your career so that each time you show, you pass on a positive image. A horse's career is like a professional's career, it has to be done step by step, we have to build a reputation. We try to ensure that each step we take is a step of growth, and not to go backwards", he says.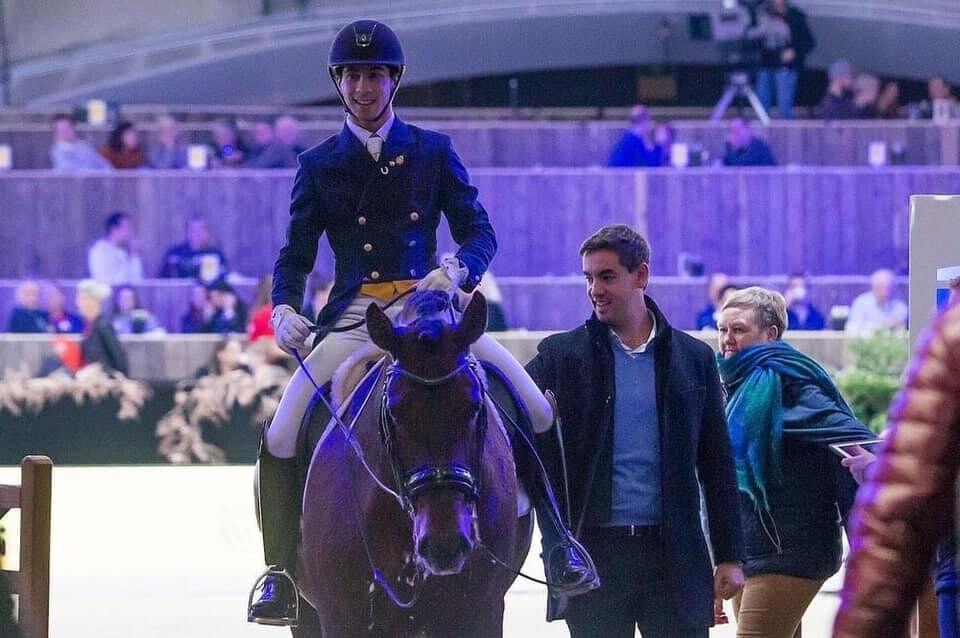 Diogo considers that "the spirit of a winner, like João, is also revealed in the moments of defeats", as in this journey that they have done "there were times when we raised the bar a lot". This project "is different from the others", as João was one of the first to reach the senior level without any experience at that level.
It was all new for both of them and this required that in the first year of the GP, they had to compete a lot, because they had no experience and that was the only way to grow on the track. In 2019 Equador made about 12 internationals, more training events, travelling to England, to the European Championship in Rotterdam… But, really, João is the rider he is today for having gone through all these events and tough challenges.
2020 was "more relieved and I think the horse's performance increase is also due to this". The year ended big with the pair becoming National Dressage Champions, setting 3 new national records in GP, ​​entering 2021 with the Olympic Games on the horizon.
Despite having attended the London 2012 Olympics and Rio de Janeiro 2016 Olympics, Diogo aims this year to be in Tokyo in the role of breeder and manager of a project that, being confirmed the presence of João and Equador in the Portuguese team, will make the dream of the whole family come true, with a homebred MVL Lusitano on the most important stage of Dressage in the World.
To the present date, the Lusitano's studbook is ranked 6th place in the WBFSH, The World Breeding Federation for Sport Horses, with the MVL Breeding making its contribution with Equador MVL and Esporim MVL.
"Obviously, we are very proud to contribute to this result of the Lusitano and I tell you in a very honest way that, of the biggest motivations I have in this project is to prove that the Lusitano is capable of being really competitive in this sport.
It's one of the things that moves me the most, proving to the market that the Lusitano is capable of being on top of the game. Until a few years ago, the Lusitano was admired, but at the same time undervalued when talking about high level Sport. When Equador went to compete at Hickstead, at the beginning of the comment, the speaker spoke in «poney». The Lusitano was known as «Little Poney» and that was something that annoyed me. Now I am very proud of the international players looking to know more about the breed, renowned riders looking for quality Lusitanos.
I don't look at this project just like the Monte Velho project, I see it very much as a mission, to pull the Lusitano breed up. I firmly believe that the Lusitano will grow even more. If we have currently a breed with 3500 mares, a closed studbook, the owners who have consistent projects, structured teams, are counting on their fingers to invest with the aim of the GP, and we already have this place in the ranking of the World Breeding Federation, imagine if there is an increase in production in the breed, if instead of 5/6, we have 20 owners to invest…! I think we can only go up.
The Lusitano is magical, has a lot of quality and, therefore, if there is any merit that Equador's project has shown - and that Rubi's has also demonstrated - it is that in well-structured, well-thought-out projects, with talent, obviously, results come-up. To continue this path, we need more projects of the kind, with good teams, other riders, and owners with long-term visions".
Diogo Lima Mayer Jr strongly believes that "the Lusitano is the horse of the future for Dressage. There is nothing to stop us from being an Olympic medal one day. We have now complete horses in the breed, with power, three good gaits, and with an unparallel rideability. We are on a path of enormous evolution which I hope will not end here and I am convinced that we will continue to grow as a breed and as a country", he concludes.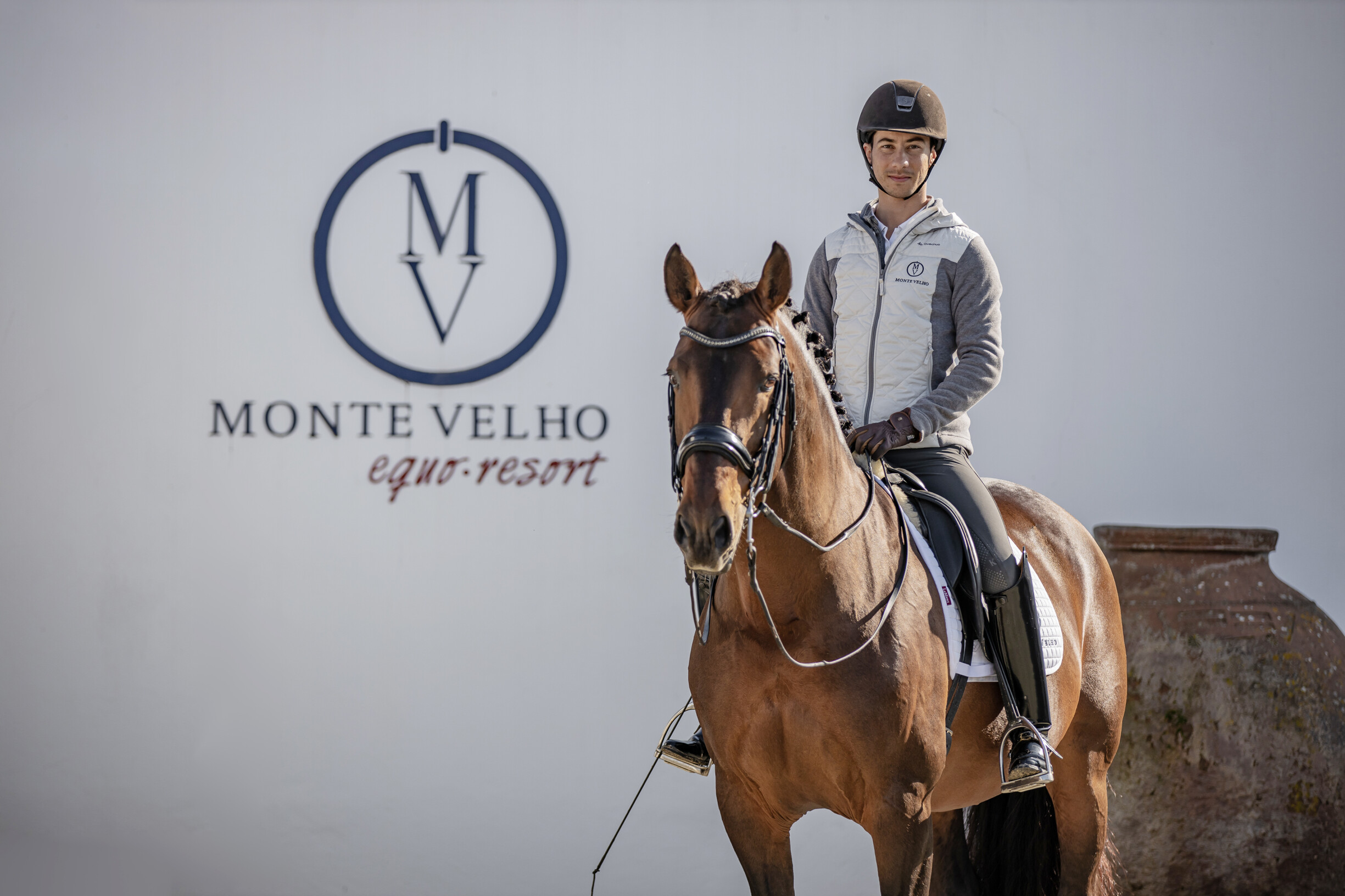 (c) Fotos: Bárbara M. da Costa/Equestrez