Raides. 05 JUL 2019
ALFOUVAR ARABIANS
Conheça esta Coudelaria dedicada ao cavalo árabe/Get to know this Arabian horse stud farm (english version above).
---
Tempo de Leitura: 9 min
Já se passou uma década desde que a Coudelaria Alfouvar Arabians abriu portas, dedicando-se à criação do Puro Sangue Árabe (PSA). As medalhas em concursos nacionais de Modelo e Andamentos e o recente título de vice-campeão nacional de Juniores de Endurance, com Isabel Nogueira, de Bangsar Alfouvar, o primeiro poldro nascido na coudelaria, contribuíram para afirmação da raça em terras lusas e do ferro da casa dentro e fora das fronteiras nacionais.
Foi no lugar de Alfouvar, perto de Almargem do Bispo, em Sintra, que Paulo Duarte encontrou, há uma década, o sítio certo para fazer jus ao PSA. Se dúvidas restassem, ficariam as coincidências, ou não derivasse "Alfouvar" do árabe "al-fauwara", que, por curiosidade, significa "o bolhão".
"Com o mercado do Puro Sangue Lusitano (PSL) a não deixar muito espaço para novos criadores", Paulo Duarte concentrou-se em introduzir no nosso país "as linhagens de PSA assentes em morfologia e funcionalidade, de acordo com o padrão da raça e com pedigrees de qualidade internacional, que não estavam, na altura, muito divulgados/conhecidos em Portugal", explica o criador.
Já a falta de tradição desta raça no nosso país foi colmatada com o recurso a parcerias. "Estabelecemos protocolos com coudelarias bastante experientes, uma localizada na Suíça e outra em Maiorca, Espanha, que nos ajudaram e aconselharam na fase inicial", conta. E acrescenta: "Foi muito importante para nós ter esse apoio por uma questão de aprendizagem e de evitar erros." Afinal, uma das bandeiras desta coudelaria era a de desmistificar algumas ideias enraizadas no mundo equestre que, na opinião de Paulo Duarte, não faziam sentido. "Era preciso combater o estigma de que o Cavalo Árabe não tem boa cabeça e de que é difícil de domar; bem como a ideia de que os cavalos com boa estética não são funcionais", recorda.

APOSTA NA QUALIDADE E NÃO NA QUANTIDADE
O trabalho realizado na última década, sempre com o foco apontado para a oferta de "linhagens diferenciadoras de alta qualidade", permitiu que a percepção em relação ao PSA evoluísse positivamente. "Acreditamos que o nosso contributo foi relevante", analisa o criador. Na base desta mudança de paradigma estiveram, "as medalhas de ouro e de prata conquistadas nos Concursos Nacionais de Modelo e Andamentos; e o facto de Bangsar Alfouvar, o primeiro poldro nascido na nossa coudelaria, ter sido vice-campeão nacional de Juniores de Endurance (CEI*120 km) este ano, com a raidista Isabel Nogueira".
Analisado o percurso desta coudelaria, o caminho para os próximos anos já está traçado. "Vamos continuar a divulgação das nossas linhagens, criando cavalos funcionais, com boa cabeça e beleza estética dentro dos padrões da raça; apostar na qualidade e não na quantidade; e reforçar a parceria com a cavaleira Isabel Nogueira e a sua equipa nos Raides, que é uma óptima forma de divulgar os nossos cavalos nesta exigente disciplina", conclui o criador.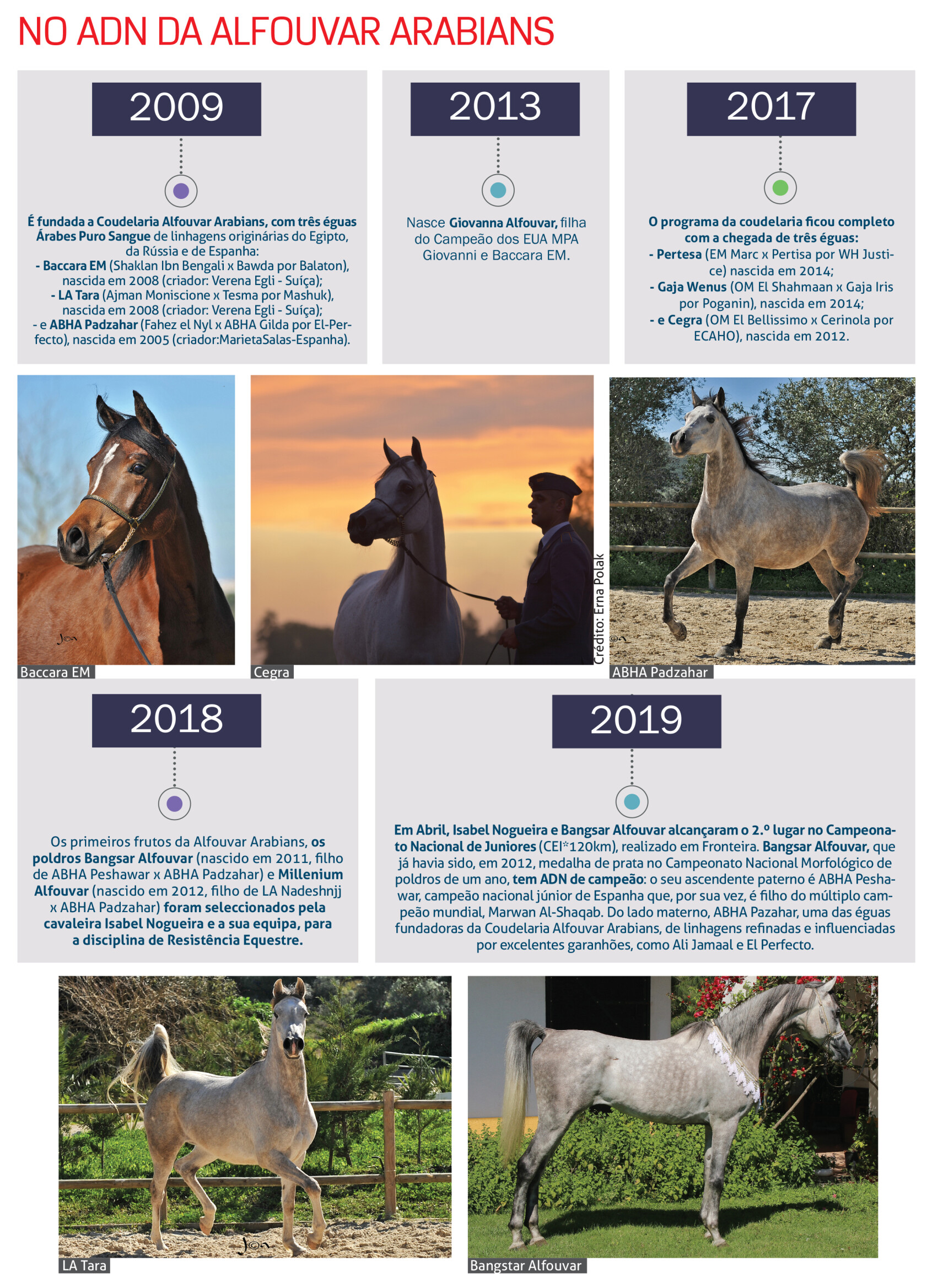 Coudelaria Alfouvar Arabians: Disclose the Pure Arab Blood in Portugal
Already a decade has passed since Alfouvar Arabians Stud has opened its doors, dedicating to the breeding of Pure-Bred Arabian Horses. Several medals in the national Championships and the recent title of Isabel Nogueira with Bangsar Alfouvar, the first foal born in the stud farm, as runners-up in Endurance Juniors National Championship, contributed for the visibility of this stud farm in Portugal and outside Portugal.
It was in Alfouvar, near Almargem do Bispo, Sintra, that Paulo Duarte found, a decade ago, the right place to breed Pure Bred Arabian horses. The coincidences remain since "Alfouvar" derived from the Arabic "al-fauwara", which means "the muffin."
"With the Lusitano Pure Blood market (PSL) not leaving much room for new breeders," Paulo Duarte focused on introducing "Pure-bred Arabians with excellent morphology and functionality, phenotypes which are within the breeding standards, having at the same time pedigrees of international high quality, that were not, at the time, very well known in Portugal, "explains the breeder.
The reduced number of breeders in Portugal forced the use of international partnerships. "We have established protocols with very experienced stud farms, one located in Switzerland and another in Spain, which helped and advised us in the initial stage," he says. Adding: "It was very important for us to get this support to learn and avoid breeding mistakes which can be costly."
After all, one of the flags of this stud farm was to demystify some ideas rooted in the equestrian world that, according to Paulo Duarte's opinion, made no sense. "It was necessary to fight the stigma that the Arabian Horse does not have a good head and that it is difficult to ride; as well as the idea that horses with good esthetics are not functional" he recalls.
Focus on quality and not on quantity
The performance carried out in the last decade, always focusing on "high quality and differentiated breeding lines", allowed to improve positively the perception of the Pure-Bred Arabian Horse in Portugal. "We believe to have made a relevant contribution", says the breeder.The pillars of this contribution were the active promotion of the Arabian Horse in Portugal; the various gold and silver medals won at the National Championships; and last but not the least Bangsar Alfouvar, the first foal born in our stud farm, as first runner-up in the national Junior Endurance Championship (CEI * 120 km) with Isabel Nogueira last April 2019 .Having evaluated the pattern of this stud farm, the path for the next years is already traced. "We will continue the promotion of the Pure-Bred Arabian horse, breeding functional horses with good head and aesthetic beauty within the breed's standards; focus on quality and not on quantity; and strengthen the partnership with the endurance rider Isabel Nogueira and her team, which is a great way to show our horses in this demanding discipline, "concludes the breeder.
In the DNA from Alfouvar Arabians:
2009
- Arabian Stud Farm was established, with three Purebred Arabian mares whose bloodlines are originating from Egypt, Russia and Spain:
- Baccara EM (Shaklan Ibn Bengali x Bawda by Balaton), born in 2008 (breeder: Verena Egli - Switzerland);
- LA Tara (Ajman Moniscione x Tesma by Mashuk), born in 2008 (breeder: Verena Egli - Switzerland);
- and ABHA Padzahar (Fahez el Nyhl x ABHA Gilda by El-Perfecto), born in 2005 (breeder: Marieta Salas-Spain).
2013
Giovanna Alfouvar (MPA Giovanni x Baccara EM) the first daughter in Portugal from the US multi-champion MPA Giovanni was born at the stud.
2017
- The breeding program was completed with the arrival of three mares:
- Pertesa (EM Marc x Pertisa by WH Justice) born in 2014;
- Gaja Wenus (OM El Shahmaan x Gaja Iris by Poganin), born in 2014;
- and Cegra (OM El Bellissimo x Cerinola by ECAHO), born in 2012.
2018
The first foals from Alfouvar Arabians, Bangsar Alfouvar (born in 2011, son of ABHA Peshawar x ABHA Padzahar) and Millenium Alfouvar (born in 2012, son of LA Nadeshnjj x ABHA Padzahar) were selected by the endurance rider Isabel Nogueira and his team, and got qualified for the demanding Endurance raids discipline.
2019
In April, Isabel Nogueira and Bangsar Alfouvar reached the 2nd place in the National Youth Championship (CEI * 120km), held in Fronteira. Bangsar Alfouvar, who had already been a silver medalist in the National Morphological Championships category 1 year colts in 2012, has DNA of champions: his Sire is ABHA Peshawar, junior national champion of Spain, who in turn is a son of the multiple world champion, Marwan Al-Shaqab. On the bottom line, ABHA Pazahar, one of the founding mares of the Alfouvar Arabians Stud, from refined breeding lines influenced by excellent stallions such as Ali Jamaal and El Perfecto